On 8th-11th December 2022 the European Wergeland Centre (EWC) invite youth and young adults from Ukraine, Poland and Norway for a training course to support and promote inclusion of all people, despite differences. And how to secure real and meaningful youth participation in the community. Application deadline: 13th of November The exchange is organized by the European Wergeland Center, in cooperation with the International Cooperation Center of the Municipality of Lublin.
The youth exchange is supported by a grant from Iceland, Liechtenstein and Norway, through the EEA and Norway Grants, as part of the bilateral Initiative "Youth for the City, City for the Youth – projects and initiatives to involve and engage the local communities".
About the exchange
The aim of the training is to better know how we can work with inclusion in society and how we can make sure that youth participation is real and meaningful.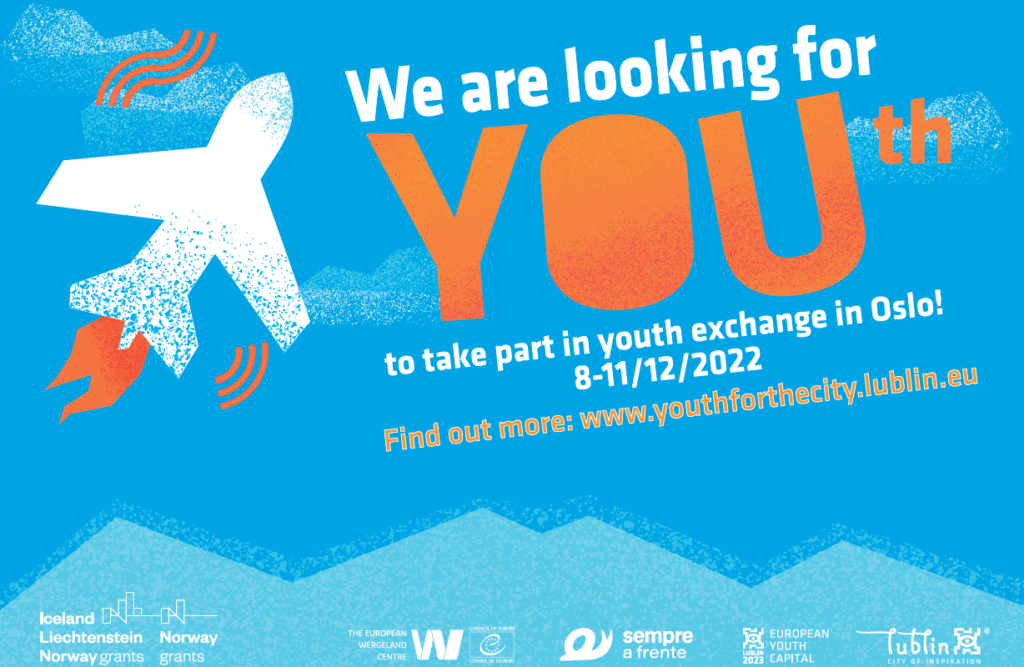 Through the training course, participants will:
exchange experiences and learn how youth participation can be real and meaningful
be introduced to concrete experiences from Poland, Ukraine and Norway on how young people can be active citizens
learn new strategies and tools to facilitate intercultural dialogue and promote inclusion to strengthen resilience to crisis and conflict
explore how we, in the best way, can include refugees in society. And learn how stereotypes, prejudice and discrimination function to find the most efficient ways to challenge them
be introduced to concrete tools to combat discrimination, facilitate intercultural dialogue, and promote inclusion to prevent conflicts in their local and national contexts.
The training will last for 3 days (arrival 8th December and departure 11th December) and bring together participants from Poland, Ukraine, and Norway, selected through an open call for participants. The training will be facilitated by trainers from EWC with extensive experience in education for human rights, democratic citizenship, and intercultural understanding.
The training is aimed at youth and young adults who:
are between 18-30 years and can speak English
are involved in activities promoting diversity and intercultural understanding
wish to develop competencies and work with practical educational tools
are committed to organizing activities to engage others in intercultural dialogue after
completing the training.
Application form
The number of places is limited. Filling in the application form is not equivalent with qualifying for a youth exchange.
Application deadline is 13th of November. Selected persons will be informed about their qualification by e-mail, on November 16, 2022.
Apply by filling in an application form!
Contact information
Do you have questions?
Norway: Please contact EWC at k.flacke@theewc.org
Ukraine: Please contact EWC at k.flacke@theewc.org
Poland: Please contact Municipality of Lublin at wpadalka@lublin.eu