Academic Lublin in numbers:
nearly 60 thousand students
9 universities, including 5 public and 4 private
over 200 fields of study at public and private universities
over 8 000 international students from over 100 countries
over 15 thousand graduates each year.
In terms of the number of students, Lublin is one of Poland's leading academic centers and the largest in the eastern part of the country. There are five public and four private universities here, distinguished not only by the largest number of students in the Lubelskie Voivodeship but also by their scientific and research achievements, appreciated in the country and abroad.
Tab. 1. The total number of students in the 2021/2022 academic year
| | |
| --- | --- |
| Public universities | The total number of students in the 2021/2022 academic year |
| Maria Curie-Sklodowska University | nearly 17 thousand |
| The John Paul II Catholic University of Lublin | over 8 thousand |
| Lublin University of Technology | nearly 8 thousand |
| The University of Life Sciences in Lublin | over 7 thousand |
| The Medical University of Lublin | nearly 7 thousand |
| Private universities | |
| University of Economics and Innovation in Lublin | nearly 7 thousand |
| Vincent Pol University in Lublin | nearly 3 thousand |
| The University College of Enterprise and Administration in Lublin | over 2 thousand |
| Higher School of Social Sciences in Lublin | over 1 thousand |
Source: In-house study based on data provided by GUS, 2022
Owing to the comfort of living in the city and a high standard of education, students readily choose Lublin. Universities annually expand and modernize their infrastructure and research facilities, supports the scientific and non-scientific activity of students and undertake activities aimed at graduates. Despite a student decline tendency in the country, resulting mainly from the population decrease, the number of students in Lublin has remained at a similar level. In Lublin, there are nearly 60 000 students in total, including over 8 thousand international students and 500 Erasmus+ students.
Tab. 2. The degree of internationalization of Lublin universities in 2010/11-2021/22
| | | | |
| --- | --- | --- | --- |
| Academic year | Overall | Including foreign students | Percentage of foreign students |
| 2021/22 | 59 135 | 8 154 | 13,80% |
| 2020/21 | 60 364 | 7 305 | 12,00% |
| 2019/20 | 60 315 | 6 707 | 11,12% |
| 2018/19 | 60 988 | 6 352 | 10,42% |
| 2017/18 | 62 977 | 6 272 | 9,96% |
| 2016/17 | 64 330 | 6 172 | 9,59% |
| 2015/16 | 67 315 | 5 662 | 8,41% |
| 2014/15 | 69 658 | 4 474 | 6,42% |
| 2013/14 | 71 913 | 3 082 | 4,29% |
| 2012/13 | 77 173 | 2 385 | 3,09% |
| 2011/12 | 80 839 | 1 764 | 2,18% |
| 2010/11 | 84 221 | 1 432 | 1,70% |
Source: In-house study based on data provided by Local Data Bank GUS, 2022
Advantages of Lublin universities
comprehensive and expanding didactic and scientific offer (variety of fields of study: from technical and natural sciences to humanities and arts),
the teaching staff of the universities is highly qualified and valued. Researchers are committed to developing future scientists and help them to promote their achievements,
opportunity to conduct research work in trans-disciplinary teams led by experts and in cooperation with esteemed national and foreign centers,
comfortable location of the universities in the city center and within the main communication routes (there is a bus stop near the building of each university),
an expanded and upgraded infrastructure, owing to which knowledge is acquired in a comfortable environment and with the use of high-quality, specialized equipment, software, and other research facilities,
well-equipped amenities),
extensive and continuously growing library collections.
In support of students' multidirectional development, the higher education institutions provide them with opportunities to participate in exciting events and initiatives of both academic and non-academic nature. What attracts young people to Lublin's high education institutions is the unique educational climate, valued academic staff, and the diversity of study fields: from technology and life sciences to medicine, the humanities, and arts.
Popular groups of study fields
The most popular ISCED groups studies among Polish students who started their studies in Lublin in the 2020/21 academic year are: Technology, Industry, Construction (07), Business, Administration and Law (04), Arts and Humanities (02) and Health and social care (09).
Chart 1. Polish students who started their studies in Lublin according to ISCED groups in individual academic years.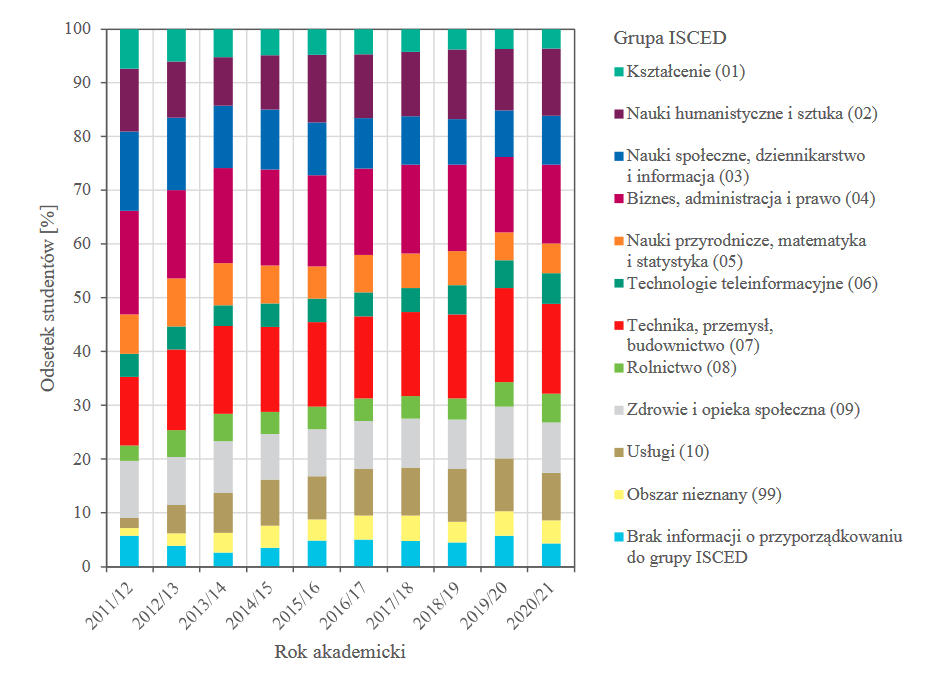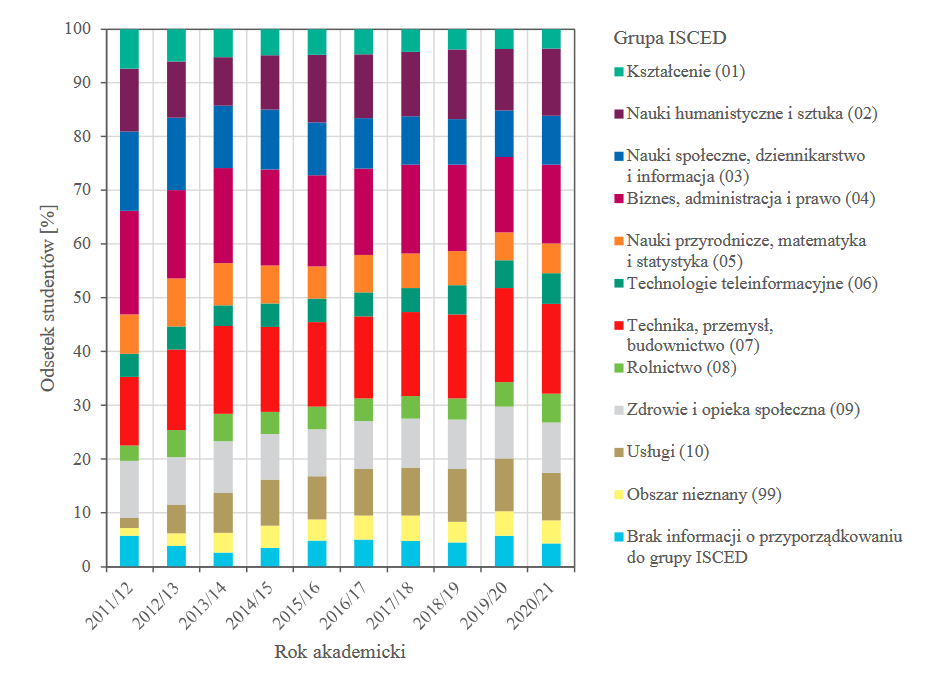 In recent years, foreign applicants for studies have been most interested in the following ISCED groups studies: Technology, Industry, Construction (07), Business, Administration and Law (04), Arts and Humanities (02) and Information and Communication Technologies (06).

Chart 2. Foreign students who started their studies in Lublin according to ISCED groups in individual academic years.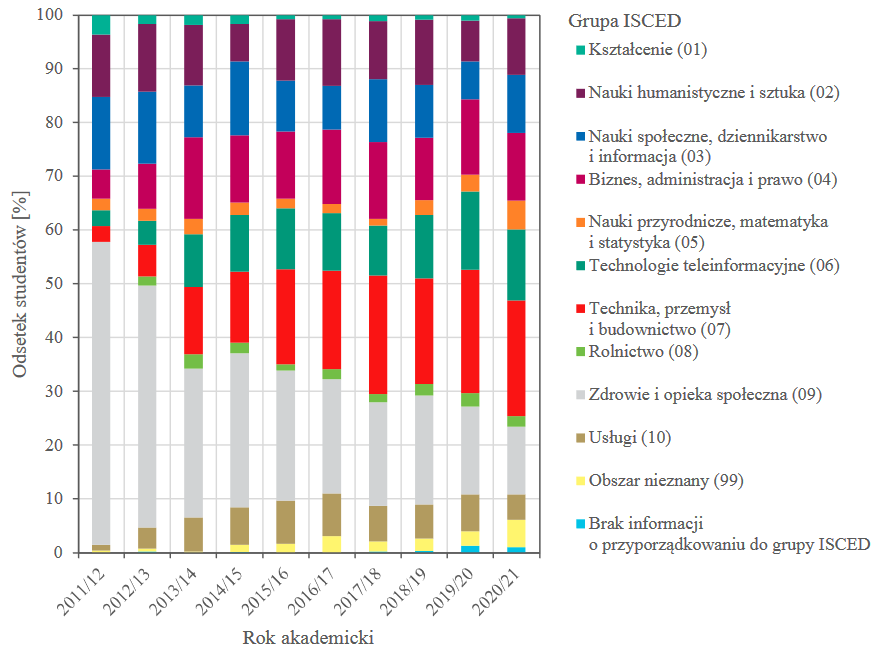 Depending on the school, students have different exchange opportunities. The countries involved in the partnership programs of all the Lublin-based higher education institutions are Algeria, Armenia, Austria, Belgium, Brazil, Bulgaria, China, Croatia, Czech Republic, France, Germany, Greece, Hungary, Italy, Indonesia, Latvia, Moldova, Netherlands, Philippines, Portugal, Russia, Slovakia, Spain, Turkey, Ukraine, USA.
In times of dynamically changing needs of the labor market, education must be a multidisciplinary process. One of the critical features of graduates of schools of higher learning expected by employers is foreign language competence. Increasingly often, the knowledge of two or even more foreign languages is required.
Lublin's leading schools of higher education are aware of this and are continuously expanding the range of the foreign language taught. There are now 4 to 8 different languages to choose from, with two obligatory at most universities and colleges in Lublin (only the College for Social Sciences, the University of Vincent Pol, the Medical University, and the University of Technology requiring one language). In addition to modern languages, KUL requires Greek and Latin. UMCS offers courses in Norwegian, Chinese, Portuguese, Ukrainian, and Bulgarian. English prevails at private institutions, with Spanish, German, or Russian available as options.
In addition to foreign language courses, languages can be learned in dedicated fields of study. A high standard of education in those fields is noteworthy. Each year many students in Lublin major in foreign languages. These are mainly English, German, French and Russian, but less popular languages, such as Dutch, Bulgarian or Chinese, have been attracted increasing interest.
All universities in Lublin offers full-time and part-time third-cycle studies. The offer of the Lublin academic centre currently includes more than 40 fields of study, the most popular of which are: humanities, veterinary, medical, law, technical, and those related to economy, business and the IT sector.
As an intenseacademic center, Lublin is also a place where education can be continued in postgraduate courses. The most significant interest are recorded in the fields categorized under the Pedagogical, Teaching, and Medical subgroups.
It is worth noting that postgraduate studies programs enable acquiring specific competencies and additional qualifications. This form of lifelong learning is perceived as the most flexible due to its potential for adjusting to the current needs of the labor market.

The academic staff potential largely determines the quality of education. Lublin is an educational centre with scientific research staff representing a high standard. Their discoveries are not only known but also developed and employed by other scientists in Poland and abroad. Representatives of academic staff in Lublin may boast high scientific expertise and reputation. What is also of great importance is that they are widely known and appreciated by students as academics. According to young people, the staff at universities in Lublin is friendly and encouraging students to meet new challenges and to follow the scientific path.
Scientific research as well as consulting and expert activities are connected mainly with the needs of the region, and they are mostly of a general, universal nature. As a result, scientific publications, patents and protective rights are created. Many research teams closely cooperate with foreign and domestic centres (under bilateral agreements in many cases).
Universities actively support local industry innovations based on their scientific research potential. Successful cooperation between Lublin scientists and regional companies and the possibility to apply the results of their joint research in production determines the growth rate of sectors such as biotechnology, pharmacy, information technologies or advanced services.

Tightening cooperation between Lublin scientists and local companies and the possibility of applying the results of their joint research in production has a positive effect on the level of innovation and competitiveness of Lublin's economy and determines the pace of growth in such areas as biotechnology, pharmacy, information technology, and modern services.
Research institutes and science institutions
The scientific and research potential of the City of Lublin is created not only by universities but also by research institutes, research and development units, and enterprises. Essential entities conducting R&D activities in the City of Lublin, apart from universities, include: